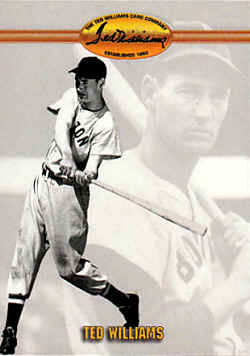 The collecting scene in the 1990's gave collectors more variety and choices of what to collect than ever before. The hobby was booming, profits were rolling in for the manufacturers, prompting new companies to enter the scene. By the middle of the decade six companies were fully licensed, Fleer, Donruss, Pinnacle, Pacific, Topps and Upper Deck, and these companies produced millions of cards under multiple brands, sets and inserts.
Other companies, not fully licensed by MLB or the MLBPA emerged and tried to find their share of the expanding market. One such company was the Ted Williams Card Co. Founded in 1993 by Ted's son, John Henry Williams and Grand Slam Marketing. The partnership wanted to capitalize on the popularity of Ted Williams and other Hall of Fame baseball players. The company found its niche by issuing two baseball sets in 1993 and 1994. The 162 card checklists for both sets were loaded with older players and Hall of Fame players, only two current players were issued in the 93' set, Jeff Bagwell and Juan Gonzales and Gonzales signed a limited number of autographs. Ted Williams also signed a limited number of cards that were inserted in packs. In 1994 the 162 card set returned with more former players, negro leage players, womens professional league players and this time included 17 upcoming prospects from MLB.
One more football set was issued, but by 1995 the company was dissolved. As a kid a had a large stack of 93' and 94' Ted Williams cards, but I didn't treat them the same as my Fleer or Topps cards. As a niave kid these cards didn't seem like a legitimate issue since they featured almost exclusivley older players (Ironically today the hobby is inundated with sets that pay tribute to baseball players of the past). To me, they were more similiar to the Conlon issues released in the early 90's, and I cast aside my Ted Williams cards into a box that contained other oddball issues, such as the aforementioned Conlon cards and K-Mart sets. Today I have a better appreciation for theses various sets that were issued during the baseball card boom, some were done very well and can be a nice addition to a collection (like the Ted Williams cards) others not so much, like the underwhelming 1990 Starline issue, released by Long John Silver.
I no longer have these cards today and cannot remember what happened to them, but I wish I still did own them. I really like the design of the 93' set, players were grouped into subsets using black and white, sepia toned or colored photos, many card fronts have two photos of the player. The card backs have Ted Williams comments on the featured players skills and accomplishments. By 1994, the cards featured color photos and more stats on the back.
I pick up this card for a quarter at the same cardshow I have been showing previous posts this past week

The Honus is from the nine card Locklear Collection insert set issued in packs in the 1994 set and features the artwork of Gene Locklear. The image of Honus squating and holding the bat is from a famous photo from his playing days. The back of the card features a collage of all the subjects in the nine card set. The bottom of the card even has a stamped number, but this serial number does not say how many total sets were produced.

While writing this post I assumed unopened boxes could be found cheaply on ebay, but a couple searches later and I haven't found one unopened box listed, only singles, so maybe there is no demand for these cards to warrant any listings. I doubt these cards are in short supply, so patience may be needed to locate an unopned box.
If you are looking to add these cards to your collection you will find attractive, well designed cards and will learn about players from baseballs rich and storied past.